Alexandra Park Conference Centre has been part of the Sunshine Coast community since youth camps were first held during the 1930s in the original Alexandra Hostel.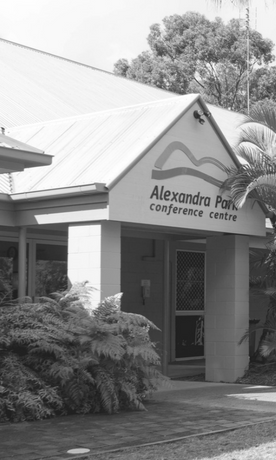 While the conference centre has evolved over the decades, along with the iconic Alexandra Headland beach and surrounding area, we remain committed to hosting groups seeking affordable, catered accommodation with full conference and training facilities.
Set amongst 10 hectares of tranquil, secluded native rainforest, our modern facilities are just 200 metres from the patrolled surf beach. We host camps from 30 to 250 people and conferences and meetings for up to 500 people.
You'll also have access to our activity spaces—a shaded pool, beach volleyball, a sports oval, high ropes, a climbing wall and canoeing.
We currently host a range of school groups for leadership development, music camps, sports development/training camps and adventure programs. Schools also use us as a base for excursions to nearby attractions such as Australia Zoo and Sea Life Sunshine Coast.
With its affordable rates, flexible facilities and easy access, Alexandra Park Conference Centre has become the natural choice for the many sporting, craft and community groups who use our facilities on a regular basis. We also host church conferences, retreats, family camps and youth camps.
Tell us about what your group needs, and we'll put together a tailored accommodation, catering and conference room package for an unforgettable Sunshine Coast experience!
Alexandra Park Conference Centre is accredited by the National Accommodation, Recreation, and Tourism Accreditation (NARTA).
We looked for many years to find a venue for our annual music camp that had appropriate rehearsal spaces and also catered for leisure activities. Alexandra Park has all of this and more!  The staff are very accommodating, the food is great and the facilities are professional and well-suited to our needs.  Our camp numbers have grown over the past 7 years that we have been to Alexandra Park and much of this is attributed to the venue.
We have been holding Spring Fever at the Alexander Park Conference Centre for over 10 years and have always found the staff to be helpful, caring and always prepared to go out of their way to make our event a success. Suncoast Clayworkers look forward to continuing a great relationship with this wonderful venue. It is truly one of the Sunshine Coast's hidden gems when it comes to conference facilities!
Excellent service, attention to special dietary needs first rate
The catering staff were outstanding and the special dietary requirements were very well catered for. Another outstanding Year 6 camp at Alexandra Park Conference Centre!!! We look forward to next year!!!