A variety of indoor and outdoor meeting and activity spaces
We aim to tailor a facilities, accommodation and catering package to meet the specific size and space needs of your group. For example, you may require a large meeting space to set up some extra equipment, or multiple small meeting rooms for practice sessions or as training rooms. Alexandra Park is accessible to people with disabilities, we have suitable accommodation, meeting rooms and amenities available.
Meeting and indoor activity spaces
From our numerous meeting rooms we aim to provide meeting and activity space/s tailored to meet your requirements. We have two large auditoriums each seating up to 250, these can be opened into one large area for large school activities, or partitioned for smaller groups or separate activities.
The auditorium/s are  ideal for large schools running leadership programs or activity requiring extra space such as music and drama camps. Conference gatherings with auditorium seating; conferences and meetings for large groups seated around tables; as well as large functions with catering.
An additional conference room close to Bungalow accommodation comfortably seats 110 and is ideal for a smaller group, training room or as an extra space.
Banksia and Acacia accommodation areas also have meeting rooms attached suiting smaller groups, daily briefings or gathering for reflection.
Meeting rooms are allocated according to your groups size and activities planned. If you require extra space for breakaway groups, rehearsals or group development activities, please talk to us about what we can offer you.
All our meeting rooms include audio equipment, display monitors or data projectors and screens.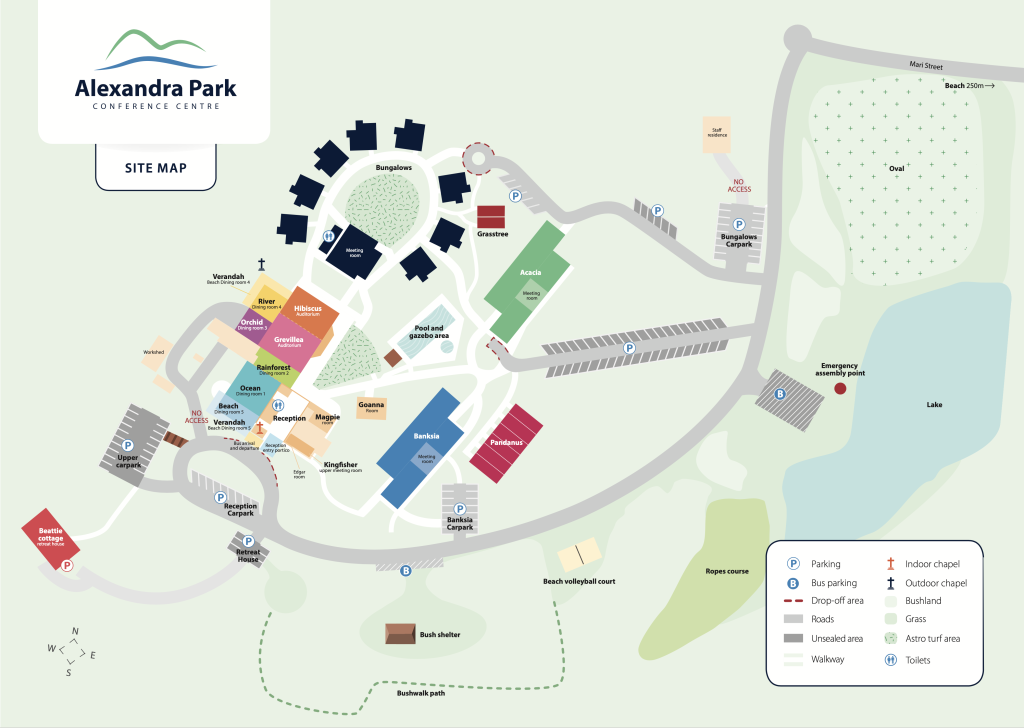 On-site outdoor activities
Many groups build their program and activities around the outdoor facilities available on-site which help to promote self-confidence, develop life skills and encourage initiative.
Playing field suitable for ball games and several smaller grassed areas for team activities.
There are a number of off-site attractions and activities within close proximity to Alex Park, including beautiful beaches, Underwater World and Australia Zoo. For further information, see our local attractions page.
Adventure activities
Adventure activities are available on-site for groups who are looking to develop leaders, build teams or learn new skills in partnership with trusted and accredited providers. Some of the activities on offer include high ropes, climbing wall, canoeing, raft building, archery and orienteering.
The Alexandra Headland Surf Club is only 200 metres from Alexandra Park and offers inexpensive surf and beach awareness programs for school and family groups.