School Groups: Alex Park has several accommodation options available, depending on the age of your students and room configuration required. Small school groups can be accommodated in a number of rooms close together and larger schools can utilise entire accommodation areas or multiple areas as numbers require.
Conference, Church, Community or Sporting groups: We have numerous accommodation options are available depending on your preferred room configuration. If you require more personal space, bookings can be made on a twin-share basis in our Bungalow or Banksia accommodation.
All our rooms feature modern bunk beds with quality mattresses. We provide accommodation for groups of up to 250 (a surcharge may apply to groups less than 30). Most areas at Alexandra Park are accessible to people with disabilities. Each of our accommodation areas has at least one room accessible to people with disabilities. All leaders rooms are air-conditioned with double beds, a mini-fridge, tea and coffee facilities and a television.
Bungalow ensuite accommodation
The Bungalow accommodation with 78 beds, is perfect for retreats and groups where space and comfort are important. It offers the latest style in group accommodation; each bungalow is air-conditioned and features two ensuited bedrooms, comfortably accommodating 10 people in total. Each of the 8 Bungalows also has a deck facing a landscaped courtyard area. All bungalows have air-conditioning.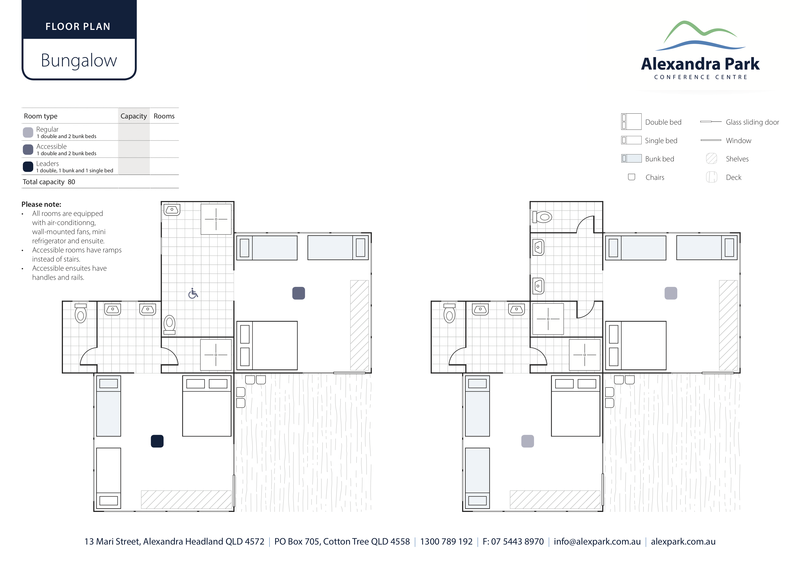 Grasstree Bungalow ensuite accommodation
Coming soon! 
Two new rooms, called Grasstree Bungalows, with capacity for 12 people. Each has an ensuite, air-conditioning, and configured with a double bed and 4 singles per room.
Pandanus ensuite accommodation
Coming soon!
Our Pandanus accommodation with capacity for 36 people, offers comfortable air-conditioned ensuite accommodation where your group can remain connected with the added benefit of separate rooms and entrance ways. These rooms are configured with 5 beds including a Double and 4 singles, including a wheelchair-accessible option.
Banksia ensuite accommodation
Our Banksia accommodation with 70 beds, offers comfortable air-conditioned accommodation where your group can remain connected and gathered in one area. There are 16 ensuited rooms mostly configured for 4 people. The Banksia meeting room can seat 70 people.
Acacia dorm accommodation
Our Acacia accommodation with 94 beds, offers comfortable air-conditioned accommodation and is great for groups to build relationship opportunities by living in community. There are 10 rooms configured for 8-12 people with shared bathroom facilities. The 2 leaders rooms have ensuited bathrooms. The Acacia meeting room can seat 100 people.